Description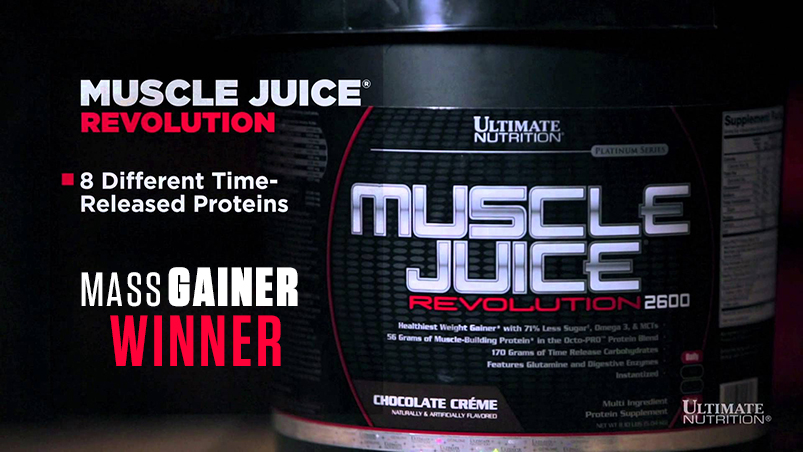 Ultimate Nutrition Muscle Juice Revolution 2600 is the ULTIMATE Weight Gainer on the market. It features 56 grams of protein in the exclusive Octo-PRO™ Protein blend that combines 8 key proteins. It contains 170 grams of time release carbohydrates to aid in carbohydrate digestion time to minimize bloating. In addition to the precursors to glutamine present in this protein, you get 1000 mg of glutamine per serving which includes the breakthrough L-Alanyl-LGlutamine.
A protein blend consisting of multiple sources of protein is superior to any single-protein source for sustained time-release nutritional support. Whey proteins such as hydrolysate, isolate and concentrate give your body a surge of amino acids immediately after you consume them. These proteins are great for lean muscle growth. Then the mid-release proteins take over. Egg protein is considered the most perfect source of protein because it is complete in essential amino acids, branch chain amino acids and glutamic acid. It is completely and easily absorbed by the body. Protein such as micellar casein, calcium caseinate and milk protein concentrate take much longer to digest and can be considered the extended release proteins, giving the body more time to fully digest and absorb their nutrients.
Muscle Juice Revolution 2600 has a Fatty Acid Blend with the healthiest of all commonly-used oils. They are low in saturated fat, high in cholesterol-lowering monounsaturated fat and among the best sources of omega-3 fatty acids and energy. MCT's mimic carbohydrates in energy, but unlike carbohydrates they do not typically get stored as fat.
Glutamine is the ultimate anti-catabolic preventing muscle wasting which lessens the degree of muscle damage and soreness. It helps the body to secrete its own growth hormone which trigger's the release of IGF-1 (Insulin Growth Factor 1). This hormone helps promote weight loss, increase lean body mass, and increase bone density. Glutamine also neutralizes lactic acid burn in your muscles by releasing Plasma Bicarbonate allowing you to work out longer and stronger. It increases your Nitrogen balance to help you stay in a positive balance for optimal muscle growth.
A more complete source of protein means you'll enjoy faster muscle gains and quicker recovery after workouts. Time-Release means continuous protein nourishment of your muscles throughout the day and before bedtime when your body works it's hardest to recover.
When used twice a day, as directed, with milk, the user will receive 2600 more calories and 148 more grams of protein to help exceed their weight gaining goals.
Directions: Mix four scoops Ultimate Nutrition Muscle Juice Revolution 2600 (about 265 grams) with 18 fl oz (532 ml) of water or milk. To maximize muscle gains and enhance your exercise program, take one serving in the morning, and a second serving one hour after your training session. On non-training days, take one serving between meals in the morning and a second serving between meals in the afternoon. Due to the time release nature of Ultimate Nutrition Muscle Juice 2600, it is the perfect gainer to be taken right before bed.